Digital Graphic Recording
Digital images can be projected as the session unfolds and on screens in lobbies during session breaks so attendees can continue to interact with the content. Sharing on social media is a natural.
Project digital images as they're created in real time.
Digital graphic recording of sessions can be projected in real time during events. It's a natural complement to the presentations of speakers.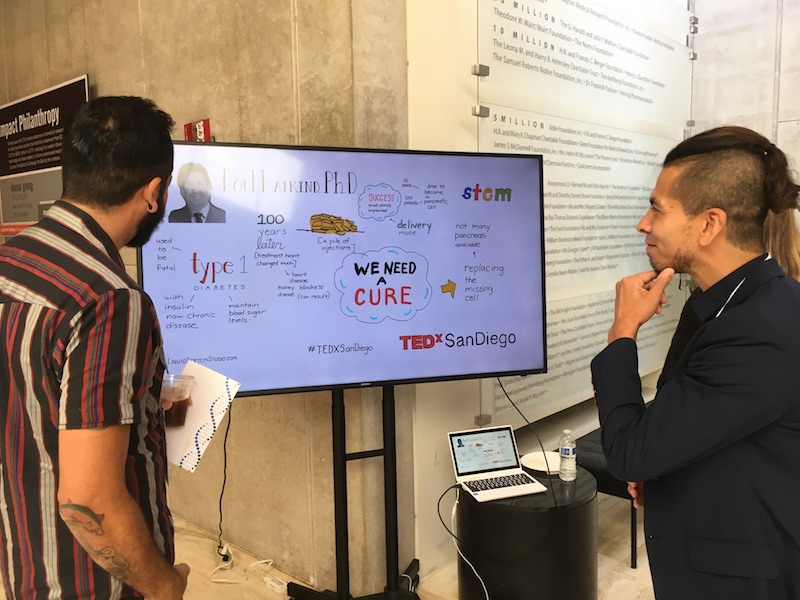 Use monitors to share images in public areas between sessions.
Images created digitally can play in slide shows on monitors during breaks, giving attendees the opportunity to interact with the content again. Don't be suprised if you see them whipping out their smart phones.
Digital sketchnotes rock social media.
Because they're created digitally, sketchnotes are easy to share on social media: Twitter, Instagram, Facebook, and Pinterest. And because they're created in real time, even people who aren't attending your event can share in the excitement as it unfolds.
Extend the life of your event.
After the event, the images can be repurposed in emails, blog posts, videos, newsletters, social media, and more. I can compile all the session notes to create a PowerPoint that is easily shared on SlideShare. And printing out and framing graphic recordings make the best speaker thank-yous. Of course, all the images can be repurposed to promote the next event.
Digital sketchnotes repurposed for post-event publications.
The National Retail Federation hired me to create sketchnotes for a three day conference. Post-event, the sketchnotes appeared throughout a publication made available only to their members.
Graphic recording remotely + podcasts.
I can also graphic record presentations from videos or via livestreaming. A sketchnote of a podcast is a visual way to promote and garner interest in your podcast. The Bronfman Foundation hired me to sketchnote several podcasts, including one featuring New York Times-best-selling author Seth Siegel.